Dental care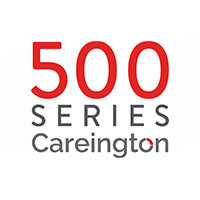 Careington's 500 Series is an affordable, easy-to-use program designed to ensure transparent savings so you know how much you will save every time you visit a participating dentist. Enjoy savings of 20% to 60% on routine and preventive dental care, major dental work, specialty treatment and even cosmetic services like braces, dentures and whitening. There's no guesswork or complicated forms for you or your provider, just present your membership card at any participating dentist in the nation and pay according to a set schedule of reduced fees.
Access a nationwide network of licensed, credentialed dentists and specialists
Save 20% to 60% on routine, major and specialty dental treatment
No eligibility exclusions – anyone can sign up and save
Save at any participating dentist, change dentists at any time and visit as often as you need — there are no limits on how much you can save
Published fee schedules that offer cost transparency every time you use the services, so there won't be any surprises at the register
Sample Savings Chart
Sample Savings

Procedure
*Regular Cost
**Plan Cost
Savings
Amount $
Percent %
Routine Checkup
$86
$22
$64
74%
Extensive Oral Exam
$152
$32
$120
79%
Four Bitewing X-Rays
$95
$29
$66
69%
Adult Cleaning
$143
$44
$99
69%
Child Cleaning
$101
$36
$65
64%
Composite (White) Filling (Front Teeth)
$223
$74
$149
67%
Crown (porcelain fused to noble metal)
$1,578
$654
$924
59%
Molar Root Canal
$1,572
$565
$1,007
64%
Complete Upper Denture
$2,302
$832
$1,470
64%
Extraction (single tooth)
$286
$75
$211
74%
*Regular Cost is based on the average 80th percentile usual and customary rates as detailed in the 2022 Fair Health Report for the Los Angeles, Orlando, Chicago & NYC metropolitan statistical area(s).
**Plan Cost represents the average of the assigned Careington Care 500 Series plan fees for the Los Angeles, Orlando, Chicago & NYC metropolitan statistical area(s).
Prices subject to change.
C500 - 1/5/22